WELCOME TO HOUSE OF HARHAZ
PLEASE NOTE:
OUR STORE IS CURRENTLY CLOSED UNTIL SEPTEMBER 22nd
ALL ORDERS PLACED WILL ONLY BE PROCESSED IN AUGUST.
SHOULD YOU WISH FOR AN ITEM URGENTLY - PLEASE FEEL FREE TO EMAIL US AT INFO@HARHAZ.COM & WE WILL TRY OUR BEST TO ASSIST YOU.
OUR APOLOGIES FOR ANY INCONVENIENCE.
THANK YOU
GIFTING
This Handblown collection of glass jars adds timeless class and clarity to a home. Crafted in borosilicate glass, each jar features Arabic calligraphy letters. The jars  elegantly refracts light from all angles. They make a thoughtful gift or treasured future-heirloom.

The soft, plush style evokes opulent days to serve sweets, dates or sugar in these exquisitely crafted hand-blown jars. 
Shop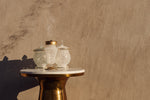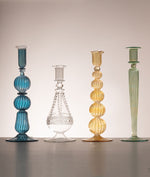 VIEW OUR NEW COLLECTION OF CANDLESTICK HOLDERS

Our Lifestyle Collections follow our aesthetic of classic, timeless styling with a nod to modernism. Inspired by travel and architecture, we are passionate about finding unique pieces that fit your decorating budget and your dream. With iconic accents, superb materials and exacting attention to detail, we invite you explore our array of artisan-designed, uniquely crafted pieces, stunning furniture and décor.

PLEASE NOTE: All our candle-holders can be found at the Always Welcome Store in Cape Town or Johannesburg. Online shopping is also available -https://alwayswelcome.store/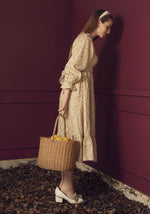 SABRINA - VINTAGE LINEN FLORAL SHIRRED DRESS

Our staple & iconic Sabrina Dress in a yellow vintage floral linen print. Made with 100% Linen. She features a flatteringsquared neckline and has delicately gathered voluminous puffed sleeves. She has a shirred bodice and flattering bell bottom. She is Midi length. Pair her with a vintageheadband and classic pump!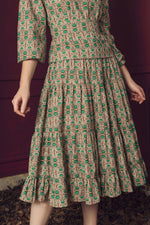 ELIZABETH - THE SWINGING SKIRT DRESS

A high waisted midi skirt dress with tiered pintuck frills. 

Our classic statement print in green. The Elizabeth dress is a versatile addition to any wardrobe. With an open, v-neckline and comfortable fit, the Elizabeth is a flattering style finished with a loose fit sleeve and tiered skirt. Throw on with pumps for day trips exploring. Side seam pockets for everyday wear. Unlined. 100% cotton. Midi length. This dress gives a rather flattering finish with the skirt attachment detailing to the dress. A rather elegant and classic look!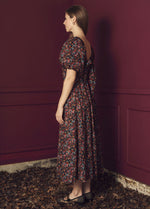 ATHENA - A VINTAGE ROSE DRESS

A key seasonal party midi dress with a flattering open back and bow tie up creating a romantic vibe. Asymmetric cut outs, a sweetheart neckline, puffed voluminous  sleeves and a slightly flared skirt finish this statement vintage style.
A vintage flare...
View our collection inspired by vinatge florals and classic silouettes